TOP > Innovative Dental-Engineering Alliance Research Core
Innovative Dental-Engineering Alliance Research Core
Prof. Hiroshi EGUSA

(Visiting)

Room: Tohoku University Graduate School of Dentistry, Building C, 7th Floor

TEL: 022-717-8363

E-mail: egu(at)tohoku.ac.jp
Please replace "(at)" with "@".
HomePage: http://crbr.dent.tohoku.ac.jp/
Research Field Regenerative medicine, Biomaterials, Prosthodontics



Objective Innovation of medical technologies based on regenerative medicine and material science
Current Topics


・Development of stem cell-based tissue engineering technologies
・Development of biomimetic materials for bone regeneration/dental implant
・Basic/clinical research on CAD/CAM-generated dental restorations
・Basic/clinical research on dental metal allergy
・Development of AI evaluation system for tooth preparation

Stiffness-tunable hydrogel-sandwich culture augments cardiomyocyte differentiation of iPS cells
---
Research Field Real world data analyses, social medicine

Objective Analyzing the oral & general health conditions.
Current Topics


• Association between oral health and social-economic and behavioral factors.
• Understanding the underlying mechanisms that lead to associations between broader social determinants and health (oral & general).
• The oral health care system and health inequalities.
• Infectious disease countermeasures and risk management.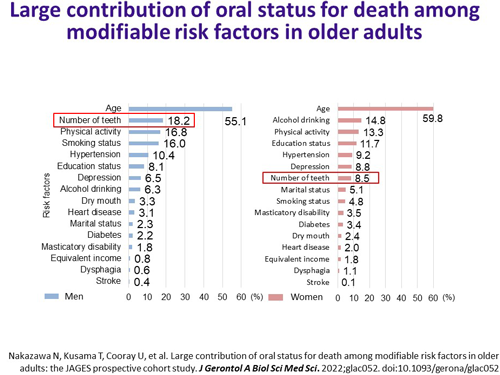 the number of teeth has large impact for death
---
Research Field Biomedical engineering, Biomaterials, Orthodontics

Objective New medical device development by interdisciplinary integration research
Current Topics


・Promotion of interdisciplinary researches regarding Interface Oral Health Science
・Research and development for new medical devices by industry-academic collaboration
・Development and clinical application of nickel-free shape memory alloys
・Research on high functionalization by surface modification of biomaterials
・Research on development of functional foods and evaluation of mastication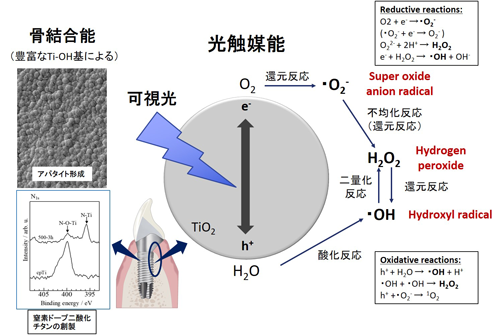 Development of innovative biomaterial aiming at both osseointegration and antibacterial properties
---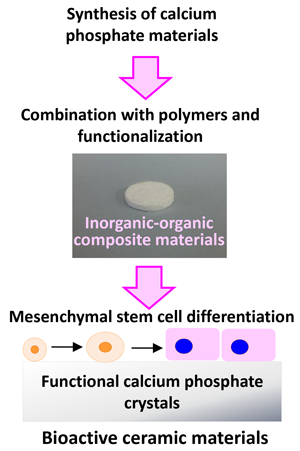 ---
Research Field Microbiome Metabolic Function Analysis, Cellular Metabolic Function Analysis

Objective Aiming to elucidate the causal relationship between the oral microbiome and host disease/health, based on the metabolic functions of both
Current Topics


・Genomics, proteomics and metabolomics of oral microbial ecosystem (oral microbiome)
・Metabolism of oral microorganisms using an anaerobic experimental system and the association with systemic / oral health and diseases
・Caries / Periodontitis preventive properties of fluorides, sugar alcohols and tea catechins
・Evaluation of cariogenic potential of food products and sweeteners using pH-telemetry
・Oral microbiome-induced deterioration of dental biomaterials
・Metabolism of host cells, including oral cancer cells
World-class "anaerobic experimental system"
essential for microbiome metabolism research

Caries risk assessment device
using ISFET pH electrode