TOP > Applied Artificial Intelligence Research Core
Applied Artificial Intelligence Research Core
Prof. Kenji SUZUKI  

Room: R2

Mail-Box: R2-58

TEL: 045-924-5028

E-mail: info(at)bmai.iir.titech.ac.jp
Please replace "(at)" with "@".
HomePage: http://www.bmai.iir.titech.ac.jp/
Research Field Deep learning, Machine learning, Artificial Intelligence (AI), AI-aided Diagnosis, Biomedical Image Understanding, Biomedical Image Processing.
Objective To develop computational intelligence that learns, from image examples, physicians' skills and knowledge in interpreting images to help make smart decisions in biomedicine.
Current Topics


・Cognitive Deep Learning: Study on deep learning that realizes the functions, such as cognition, recognition and understanding, of the human visual system.
・AI Doctor: Development of intelligent computer-aided systems that assist physicians in early detection, accurate diagnosis, effective treatment, and better prognosis of diseases.
・Virtual AI Imaging: Development of deep-learning technologies that learn to virtually acquire the physical phenomena and functions in imaging.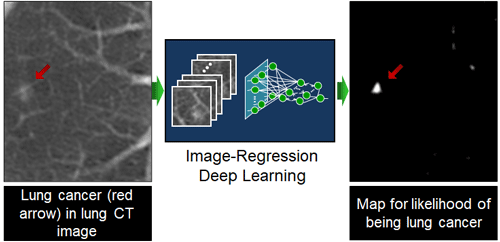 Image-Regression Deep Learning for Estimating Likelihood of Being Lung Cancer in CT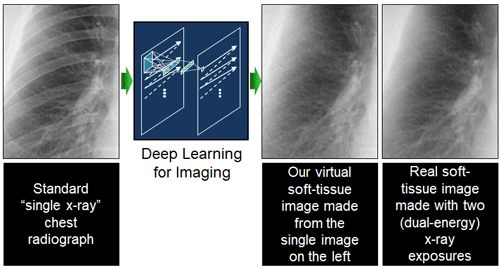 Virtual AI Imaging Technology to Remove Bone Components in Chest Radiographs
---