Message from the Director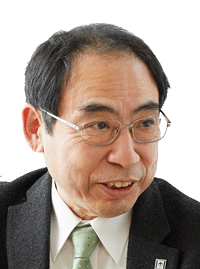 Dr. Kentaro Nakamura


Room: R2-108
E-mail: director(at)first.iir.titech.ac.jp
Please replace "(at)" with "@".



---
The Laboratory for Future Interdisciplinary Research in Science and Technology (FIRST) was established in April 2016 as one of the four research organizations at the Institute of Innovative Research, Tokyo Institute of Technology. FIRST is the largest research institute of the four, with approximately 100 faculty members engaged in a wide range of research in mechanical engineering, electrical and electronic engineering, material engineering, information engineering, environmental engineering, disaster prevention engineering, and social engineering.
FIRST's mission is to contribute to academia and industry by creating new interdisciplinary fields based on a broad research background and developing technologies that can be applied to the everyday world. We actively promote industry-academia collaboration to meet the needs of today's society, as well as to lay the foundations for next-generation technologies that will be responsible for society 30 years from now. To realize this mission, we collaborate not only within the university, but also with external parties with the aim of advancing research and development in various industrial and medical fields. One such activity involves the Research Center for Biomedical Engineering, a network-based collaborative research center supported by the Japanese Ministry of Education, Culture, Sports, Science and Technology (MEXT) since 2016. The center aims to integrate functions between different fields and to create new research fields through collaboration between the Institute of Biomaterial and Bioengineering (Tokyo Medical and Dental University), the Research Institute of Nanodevice (Hiroshima University), the Research Institute of Electronics (Shizuoka University), and FIRST. We started Phase II of this activity in 2022 to build on the achievements of Phase I, which ended in 2021, as well as to develop further collaborations. In addition, many faculty members are engaged in interdisciplinary research in the field of medical and dental engineering in a collaborative project with the Graduate School of Dentistry, Tohoku University. Moreover, by way of large-scale industry-academia collaboration, FIRST has established joint research courses and collaborative research centers on smart materials, highly functional materials, smart actuators, heavy machinery optimization, next-generation device fabrication technology, and integration technology for electronic devices with different functions. Furthermore, we hold an open campus event every autumn for industry and the general public, and organize seminars to promote and publicize our research.
We believe that the strength of the Laboratory for Future Interdisciplinary Research in Science and Technology is that it is an organization where researchers from various disciplinary backgrounds can produce world-class results in their respective fields while cooperating to develop new areas and tackle new social issues. We invite you to share with us the challenging issues you seek to resolve, and look forward to your continued support.


April, 2023
Director, Professor