Message from the Director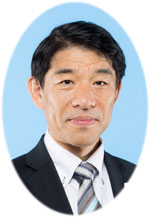 Dr. Naoto Ohtake


Room: R2-108
E-mail:director(at)first.iir.titech.ac.jp
Please replace "(at)" with "@".

---
 The Laboratory for Future Interdisciplinary Research of Science and Technology (FIRST), started in April, 2016. From its beginning, it was launched as the largest research organization at Tokyo Tech consisting of about 90 faculty and staff members. It acts a research center that fosters interdisciplinary research in various fields covering mechanical engineering, electrical and electronic engineering, metal engineering, information science, environmental engineering, disaster prevention engineering, social science and so on.

 The mission of FIRST is to cultivate next generation industry and its social implementation covering its wide fields of research. To realize this mission, we reinforce not only the internal collaboration but also the cooperation with outside of Tokyo Tech on research and development in the medical field etc. We are currently working as a network-based collaborative research base in a project supported by the Japanese Ministry of Education, Culture, Sports, Science and Technology (MEXT) since 2016. Here, we are working to integrate functions by collaborating with Tokyo Medical and Dental University (Institute of Biomaterial and Bioengineering), Hiroshima University (Research Institute of Nanodevice and Bio Systems), and Shizuoka University (Research Institute of Electronics). In addition, more than ten Tokyo Tech faculty members are promoting research in the interdisciplinary research area in a collaboration project with Tohoku University Graduate School of Dentistry.

 Meanwhile, regarding industrial liaison, we are focusing on introducing research topics to companies by utilizing university research administrators (URA), in order to match companies' research interests to bridge the seeds of the Future Laboratory and social needs. As a large-scale industrial liaison project, we have created four Collaborative Research Chairs, consisting of the Institute's first Collaborative Research Cluster that has been launched on April 1st, 2020.

 As part of the improvement of the research environment, we promote the consolidation and sharing of clean room facilities and experimental equipment, which are scattered around our campuses. In addition, to advance the development of support facilities that researchers can easily use and are also useful for students, we began opening up our facilities for internal and well as external use with the cooperation of the Tokyo Tech technical department. Also, FIRST holds an open house for industry and the general public, which is held every year in autumn. We are striving to publicize and publish our research activities to disseminate the results to a wider audience, as well as hold seminars on cutting edge topics.


In 2020, FIRST will take a new step as noted below.
S

ocial Implementation and Industry Liaison
Promoting new Collaborative Research Clusters & Collaborative Research Chairs

S

haring system and Infrastructure
Accomplishing consolidation and sharing of research facilities

T

angible International collaboration
Utilizing Tokyo Tech's ANNEX, Dispatching young faculty members overseas

E

nhance external funding
Enhancing funding from National projects and Collaborative research with industry

P

romotion of Interdisciplinary Research
Promoting activities with Tohoku University, cooperation with Tokyo Tech DLab
P

romotion of Collaborative Research Base

Promoting network-based collaborative research base activities
This initiative will be called "FIRST S2TEP2 2020", and we will continue to promote research and human resource development as a research organization responsible for promoting future industrial technology development. We would like to ask for your continued support for FIRST and hope you can join us in promoting our mission.
April, 2020
Director, Professor