TOP > News > New faculty members: Asst. Prof. Dong HAN(April 2, 2018)
News
Newly appointed Assistant Professor's greeting
Asst. Prof. Dong HAN(Biomedical Engineering Research Center))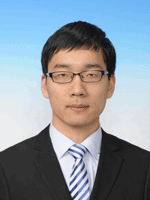 I am Dong Han and work in Biomedical Engineering Research Center in Laboratory for Future Interdisciplinary Research of Science and Technology (FIRST) from April 2018. As a Japanese government (MEXT) scholarship student, I received the Ph.D. degree in mechanical engineering from Tokyo Institute of Technology in March 2018.
As a newly appointed Assistant Professor, I will engage in the research and development of micro-electromagnetic actuators utilizing magnetic films for medical applications. I will spare no effort towards the commercialization of research achievements.
Let us all work together to build a world-class FIRST.
Shinshi Lab:http://www.nano.pi.titech.ac.jp/