TOP > Industrial Mechano-System Research Core
Industrial Mechano-System Research Core
Prof. Tadahiko SHINSHI

Room: R2-316

Mail-Box: R2-38

TEL: 045-924-5095

E-mail: shinshi.t.ab(at)m.titech.ac.jp
Please replace "(at)" with "@".
HomePage: http://www.nano.pi.titech.ac.jp/
Research Field Mechanical devices and systems using magnetic force
Objective Realization of novel mechanical devices and systems using magnetic force
Current Topics
・Artificial hearts using magnetic levitation technology
・MEMS devices using permanent magnet film
・High response and multi-DOF Maglev actuators for industrial applications



Implantable and disposable artificial hearts using magnetic levitation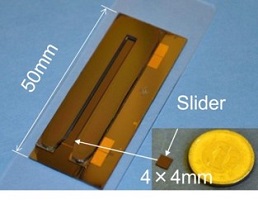 MEMS linear motor using permanent magnet film
---
Prof. Takeshi HATSUZAWA

Room: R2-318

Mail-Box: R2-6

TEL: 045-924-5037

E-mail: hatsuzawa.t.aa(at)m.titech.ac.jp
Please replace "(at)" with "@".
HomePage: http://www.hat.first.iir.titech.ac.jp/
Protopype sensor with mock-up organ and application assumption for endscope surgery

.





 

Cell culture device with 4 x4 micro-electrode array and electrical activity observation of cancer cell mass.
---
Research Field Bio-MEMS,Bio-sensing,Bio-functional engineering
Objective Development of MEMS devices systems for biochemistry and bio-analysis
Current Topics
・Evaluation of Optical Properties of Substrate with Nano Periodic Structure and Its Application to Bio Measurement
・Cellular engineering by bio MEMS/NEMS
・Nanobiotechnology utilizing properties of biomolecules

Transfection device to single-cell
---
Assoc. Prof. Joon-wan KIM

Room: J3-1115

Mail-Box: J3-12

TEL: 045-924-5035

E-mail: kim.j.aa(at)m.titech.ac.jp
Please replace "(at)" with "@".
HomePage: http://yoshida-www.pi.titech.ac.jp
Research Field MEMS, Micro Mechatronics, Bio Mechatronics
Objective Advanced Micro-mechatronics by MEMS technology and its applications
Current Topics
・Micro hydraulic power source (micropump) driven by ECF jet
・Liquid cooling system by ECF micropump
・ECF flexible actuators (micro hands or micro manipulators)
・Focus-tunable ECF microlens by MEMS technology.
・MEMS-based ECF micro rate gyroscopes.

| | |
| --- | --- |
| | |
| ECF Micropump by triangular prism and slit electrodes | ECF micro rate gyroscope by MEMS technology |
---
Assoc. Prof. Kotaro TADANO

Room: R2-420

Mail-Box: R2-46

TEL: 045-924-5032

E-mail: tadano.k.aa(at)m.titech.ac.jp
Please replace "(at)" with "@".
HomePage: http://www.k-k.pi.titech.ac.jp/
Research Field Dynamic Systems
Objective Realization of Advanced Human Support Systems
Current Topics
・Surgical Robot Systems
・Control of Teleoperation Systems
・Control of Pneumatic Driven Systems

Surgical robot systems being studied
---
Research Field Micro/nanofluidics and Interfacial Science
Objective Handling of fluids and interfaces at small scales for novel engineering applications
Current Topics
・Droplet microfluidics
・Functional particles design
・MicroTAS / Lab on a chip
・Micro/nano fabrication
・

Microfluidic particles separation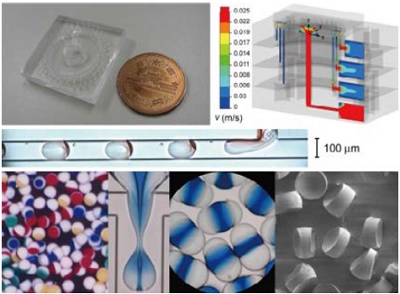 Microfluidic production of functional droplets and particles

Drug permeability assay through microfluidic droplet interface bilayers
---
Asst. Prof. Toshihiro KAWASE

(Concurrent Post)

Room: R2-418

Mail-Box: R2-46 

TEL: 045-924-5032

E-mail: kawase.t.aa(at)m.titech.ac.jp
Please replace "(at)" with "@"

HomePage: http://www.k-k.pi.titech.ac.jp/
---
Asst. Prof. Naohiro SUGITA

Room

: R2-314

Mail-Box: R2-38

TEL: 045-924-5094

E-mail: sugita.n.aa(at)m.titech.ac.jp


Please replace "(at)" with "@"



HomePage: http://www.nano.pi.titech.ac.jp/
---
Asst. Prof. Naotomo TOTTORI

(Specially Appointed)〔Nisisako Lab〕

Room

: R2-217

Mail-Box: R2-9

TEL: 045-924-5092

E-mail: tottori.n.aa

(at)

m.titech.ac.jp


Please replace "(at)" with "@"



HomePage: http://www.nis.first.iir.titech.ac.jp